Before & After
​
OVERNIGHT TRANSFORMATION
The Story Behind the Flower Curl
My hair journey was very much inspired by my parents. My beautiful mother was on a mission to strengthen my very thin hair by cutting it bob up until the age of six. When I started to realise how short my hair was, I asked if I could grow my hair longer and my father encouraged me to do so until my locks reached my thighs! Every time I was due a trim, my mother would measure and trim my hair and then my dad and I would check to see how much my mum cut off!
At the age of 17, I decided to enter a competition and I longed for big, voluminous curls so I booked an appointment at the hairdresser and asked to have my hair curled for the event. The hairdresser prepared my hair and set a bunch of rollers in, on the morning of the event and she advised me not to remove them up until the evening. I was so excited to see the hair curling results but I knew I had to wait until it was time for me to go up on stage as I already knew how much my hair struggles to hold any curls.
Well, as you can see from the picture, my hair doesn't look like I've had any rollers in that day, (ten hours plus to be exact). Although, I did get a couple of flicks here and there which I was not too impressed about.
This particular picture and how much time I spent at the hairdresser and how uncomfortable I was throughout the whole day, really stuck with me and from then on, I was on a mission to find a hair curler that could curl my hair beautifully.
Nine years later, and I still haven't found a hair curler that could create beautiful long lasting curls. I tried curling tongs and other heated hair curlers, but the curls only lasted five minutes and by the time I stepped out of the house my hair was completely straight again, not to mention all the split ends that I had after just one use. I also used a variety of different rollers and other heatless hair curlers but I either found them difficult to use, time consuming, super uncomfortable or my hair got tangled in the products which also ended up damaging my locks!
At about 8:30am on Tuesday 10th November 2015, I was on my way to my office job and I had a light bulb moment for a new heatless hair curler. As soon as I got to my desk, I grabbed a piece of paper, drew what I had in mind and put it in my handbag. I could not wait to get back home to make my very first prototype.
I got so excited and I just knew in my heart that my idea was going to work and I spent months making & testing different prototypes and refining the idea in my good old shed.
​
I wanted to create a hair curler that met my very long list of standards and that I simply could not find on the market and in any other hair curling products. I found many of the other hair curling products outdated, bulky and uncomfortable. I realised that there was an opportunity for a new heatless hair curler that many women will absolutely love and would want to try.
Cordina.co.uk has been created to inspire and provide helpful information to women all over the world with a keen interest in hair care, faster hair growth and hair styling.
​
Black Friday SALE - FLOWER CURL BY CORDINA HAIR AVAILABLE NOW - Black Friday Sale ends Monday 26th Nov
Where do you ship to?
---
We ship worldwide from the United Kingdom
---
Can I use the Waver Bun on wet/damp hair?
---
We recommend to start off with completely dry hair.
With so much misinformation online, we understand that it can be hard to know what's best when it comes to hair care. We have done extensive research and tested countless techniques and found that if you go to bed with wet/damp hair, there's a very good chance that your hair will not dry properly, you will also wake up with more frizz, dryness, breakage and split ends - which I'm sure we all want to avoid.
Our hair tools are also coated in satin which is a non absorbent material. This means that any hair oils sitting on your hair will not be transferred to the product. This also means that if your hair is wet or damp, your hair will simply not dry properly.
Here are some tips:
1. Start off with completely dry hair
2. For more definition to your waves, we recommend applying a little bit of water to the length of your before wrapping.
---
Is the Waver Bun comfortable to sleep in?
---
Yes! The Waver Bun is your go to overnight hair tool for bed. It has been designed to be worn overnight. No more messy buns, plaits with straight ends, ponytails or leaving your hair down for bed!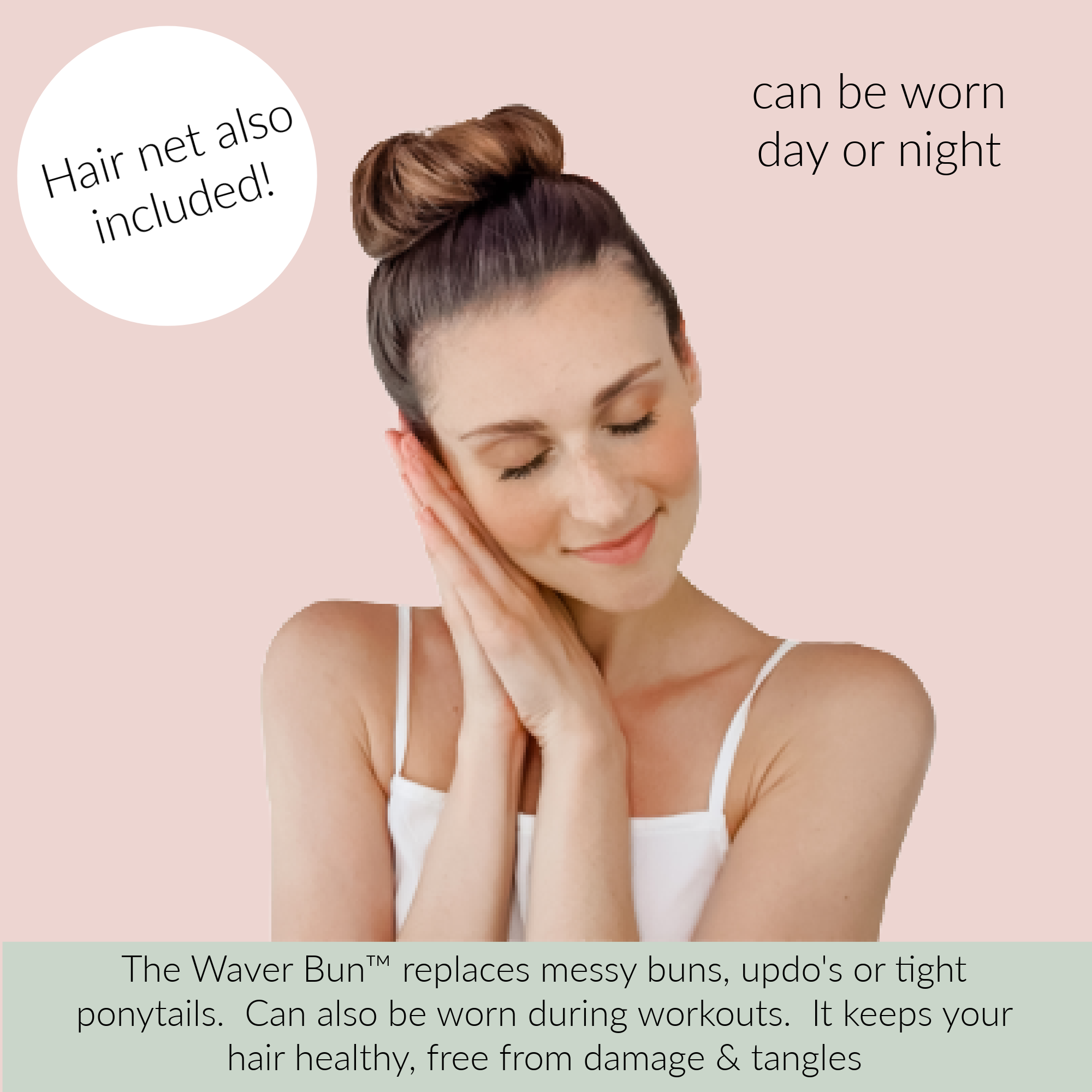 ---
Is the Waver Bun suitable for kids?
---
Yes, the Waver Bun is suitable for kids aged 7+
---
Hair Length Guide for the Waver Bun
---
The Waver Bun is best suited for women with mid back to very long hair (around tailbone length)
---
Is the Waver Bun suitable for both fine and thick hair?
---
We generally recommend the Waver Bun for women with fine and medium thick hair. If you have thick hair or a lot of hair, you can still use the Waver Bun as an alternative solution to messy buns or updo's. The heatless waves when removed are generally more prominent on fine and medium thick hair. If you have thick hair you can add more water to dry hair or curl enhancing cream to encourage heatless waves when removed. We recommend that all women with different hair types to follow the steps on how to secure the hair in place whilst using the elasticated hair net provided to keep everything nice and secure.
---
How long do I need to the Waver Bun in my hair to see hair waving results?
---
Waver Bun: If you use the Waver Bun on completely dry hair overnight or for a few hours during the day, the result will be subtle natural waves.
If you are after more definition to your waves, you can add either a curl defining cream or water to your hair before setting in.
---
Is it difficult to remove the Waver Bun in the morning?
---
No, the Waver Bun will slide off with ease, thanks to its satin coated ring. (even if your hair is tailbone length!)
---
Will the Waver Bun work on wigs and hair extensions?
---
The hair waver will work on 100% human hair wigs and human hair extensions.
---
How do I secure my hair in the Waver Bun?
---
Secure with hair grips as shown below and use the hair net supplied to keep everything nice and secure!
---
How do I contact Cordina Hair?
---
You can get in touch with us here.
---
Why Satin and not Silk?
---
The Flower Curl is coated in satin fabric, a very gentle material for your hair which helps to tame frizz, dryness, breakage and unneccassary friction. The satin also helps ensure a smooth unravelling process revealing silky soft curls when removed. Why Satin and not silk? Silk is actually a much easier fabric to work with when it comes to making products. We debated over these two fabrics for quite some time and after much research we decided to go for satin mainly because the process does not involve any cruelty to animals. Silk is typically obtained from silk worms however these worms don't pass the pupal stage as they are boiled or gassed alive inside their cocoons. About 6,600 silkworms are killed to obtain 1kg of silk. (info from Peta.org.uk) Satin is a man made strong material made to last. You can use our hair tools over and over again for many years to come.
---
Can I see Before & After Results? (1 day apart)
---
Yes! These pictures were taken 1 day apart. In the left pictures, the hair was worn down for bed and positioned over the pillow so not to roll on it during the night. The right pictures, the Waver Bun was worn overnight and as you can see the result is completely different. The hair appears more hydrated, less knotty and frizzy with some added natural waves.
---
What's the difference betweent the Flower Curl & the Waver Bun?
---
The Flower Curl is a heatless hair curler and can be used to create different hair curling results: loose / soft / voluminous curls - depending on how you use it. The Flower Curl will also give you longer lasting hair curling results. We receive so many comments from our customers telling us that their hair usually never holds a curl but with the Flower Curl, the curls last so much longer - and it is true, they do last longer.

The Waver Bun is a great hair tool for bed, workouts or for when you simply need to put your hair up. Instead of putting your hair up in a messy bun or ponytail, wrap your hair in the Waver Bun, this keeps your hair free from damage and breakage and when removed, you can also achieve beautiful waves, which we think is an extra added bonus! The Flower Curl and Waver Bun bundle is our second best seller (after the Flower Curl)
---
---